Personalized Services. Trusted Experts. Results Driven.
Who We Are
As tenured telecom professionals with 20+ years of experience at Centurylink, and other carriers. Agility Communications specializes in helping businesses connect multiple locations, create synergy in their voice communications systems and take advantage of emerging cloud technologies. We help you improve performance, save time and money. Agility offers carrier services from multiple carriers across the united states.
Each of our highly trained experts are dedicated to your success and you can rest easy knowing that you have a team of technology specialists behind you, every step of the way. We pride ourselves in being adaptive, knowledgeable and agile to help you succeed in today's ever changing marketplace.
What We Do
We create a relationship with your business and help you procure and better utilize voice communications, data connectivity and cloud technology. Our goal is to make your company a more agile competitor in the marketplace.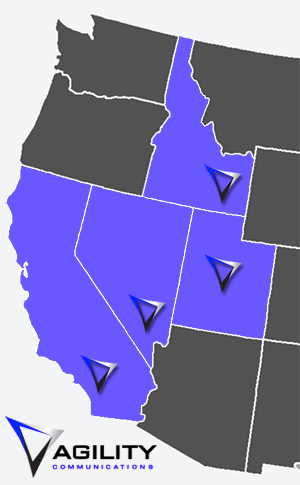 We provide a 3-Point Solution: 1) Integrated Engineering Support 2) Simplified voice communications, data connectivity, and cloud technologies 3) Proactive Account Management.
What We Offer
AGILITY COMMUNICATIONS  offers carrier services ranging from analog lines to complex fiber solutions and high speed fiber connectivity.  We offer structured cabling for your new building, surveillance systems and security. We improve company collaboration and increase productivity with agile solutions for voice, video, call center, virtual desktop and applications. AGILITY Communications leverages expertise from best in industry vendors and carriers to provide phone systems and data hardware from Polycom, Zultys, Avaya, Cisco and Adtran. Our focus is to provide one place to call for all your telecom and networking needs.  Whether you're opening a new office or just need help getting your hands around your existing business IT, we have the solutions to make you more agile in the marketplace.
Where We Deliver
AGILITY COMMUNICATIONS can provide service for you anywhere in the U.S. and in many countries throughout the world. We focus in the western United States with clients in Idaho Falls, Pocatello, Salt Lake City, Orem, Cedar City, St George, Las Vegas and Southern California.  We serve client locations all over the US. Call us with any location and we'll go to work for you.