Whether your business is a startup or a corporation; you need good voice communication services such as hosted VoIP phones. If you have minimal time, a small budget but you have large ambitions, we can work with you. AGILITY Communications is reasonably priced, simple to use and makes it easy to connect. With our services, you'll have the ability to outdo the competition and achieve your goals.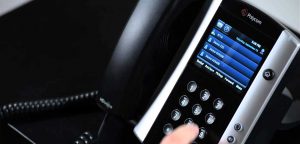 Working With AGILITY Communications
Our business phone systems make it easier than ever to connect your employees to each other. AGILITY includes system features like auto attendant, music-on-hold, web conferencing, web faxing and video meetings. These business phone solutions can also keep you connected while on the move, so your employees can be consistent in spite of where they are located. Additional applications like Scale Simply, Reliable Connection, Boost Mobility and Do More will keep you seamlessly united as your business expands.
Advantages of AGILITY Voice Communication
Convey a big-company representation with enterprise features like auto attendant, music-on-hold, web conferencing, web faxing and video meetings.
Receive huge savings that can minimize monthly phone bills.
Keep connected while on the move with mobile apps, company-wide extension dialing, advanced call forwarding and voicemail-to-email.
Unify all your employees with one phone system that works wherever they are-in the office, at home or on the road.
Per seat pricing makes it simple to add and eliminate employees as your business expands or changes.
Reliable Connection keeps you safely linked with private or public network connections.
Boost Mobility allows you to work from basically anywhere with advanced productivity and mobility qualities.
You can do more with workforce capabilities ranging from collaboration and file sharing to video chat and instant messaging.
VoIP Providers
AGILITY providers for business phone systems include:
CenturyLink
Granite
Airespring
Windstream
Integra
XO
Yiptel
Get In Touch
For reliable, top-of-the-line voice communication, request a free estimate from AGILITY Communications today. You can also contact us or send in a contact form. You can find our services in Idaho Falls, Idaho, St. George and Orem, Utah, Las Vegas, Nevada and Los Angeles and Irvine, California.