Slow Internet can be so frustrating and actually hurts your business. These days, customers turn online first to get information about companies and organizations they're interested in. Employees need fast Internet to effectively perform their jobs. What was fast a couple of years ago is slow today. More people and more Internet-linked devices in your company soak up limited bandwidth. BYOD (Bring Your Own Device) programs that support workers' smartphones and tablets incrementally grow the demand for Internet bandwidth and the speed that bandwidth is accessed. Slow connections mean reduced productivity.
Increased performance
The first thing to do in improving your bandwidth is to check for bottlenecks that could be reducing your bandwidth throughput. Check your router, a bad cheap router can be a bottleneck to performance. Secondly regularly scan for viruses and malware. Nothing brings network performance to snails pace or a complete halt faster than malware. Once you've replaced your router and kept your network free of malware sometimes the bandwidth you have just isn't good enough. Consider the following statistical examples…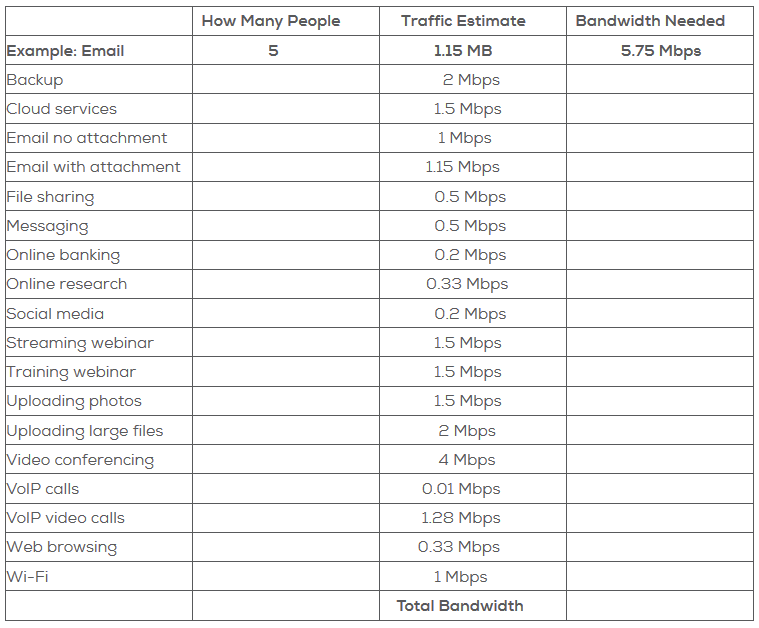 When you start analyzing what uses internet you will quickly see Internet is not only critical but in high demand. That cheap cable circuit just isn't getting the job done anymore.
How to Increase bandwidth without increasing your monthly cost
Once you've determined you need more bandwidth you may not have the budget to keep up with the constant demand for more, so how can you get increased bandwidth without incurring additional cost? Contact a telecom consultant like Agility and check for fiber availability. What once was too expensive for small business has dropped in price dramatically in the past 3 years. A good consultant can provide fiber locations and price quotes from multiple carriers. Evaluate your options and its likely you can get an increase in bandwidth by moving to fiber without incurring any additional monthly cost. Most carriers understand the cash flow crunch most small businesses are under and will install the service with a bundled router for free with a 3 year agreement. Dedicated speeds on fiber are much better performing than broadband cable and wireless. Broadband providers advertise high speeds for low rates but always over promise and under deliver because its a limitation of the technology and they over subscribe many users on the same bandwidth. Fiber offers dedicated speeds and the technology is more consistent and secure. Its likely you are already paying $100-200 per month for a broadband or wireless connection that is under performing. Fiber can be available with speeds of 100mb or more for as low as $185 per month.
Lack of speed caused by a slow Internet connection kills your business productivity resulting in missed opportunities. No matter what industry you're in, your internet connection is a key part of making sure that you can acquire more customers, collaborate with your team, and get more done. If you've hovered around the same amount of bandwidth for a while, you might not be aware of just how much value you can get from upgrading your connection.
To find out what is available at your location click below…
{{cta('39ce8492-5c89-4619-9d88-bceedab1b2b5′)}}