This year's future looking business report on IT trends and tech adoption plans looks at how IT is adapting in a Covid-19 world. During the rapid rush to remote work, IT departments everywhere rapidly deployed technologies to maintain business continuity during the global health crisis. The massive move to work-from-home spurred shifts in hardware, software and services spending, and will continue to make waves as many companies stick to flexible working arrangements permanently.
Covid-19 has affected businesses of all sizes many of which have had to support remote workers, create new digital workflows and adopt technologies such as VoIP sooner than planned. However some things remain constant such as IT infrastructure expanding, the need for additional hardware, software and services as well as a more specialized IT staff to address the organization's needs.
Key Takeaways for 2021
COVID-19 has been a catalyst for business transformation. 84% of large enterprises (1000 employees or more) are planning on long-term IT changes due to the pandemic. Consumers have moved dramatically to online channels. Companies have had to respond with rapid digital transformation. Interacting with customers via text, chat and video conferencing. Many companies say 80% of their customer interaction is now digital.
Digital Transformation plans will drive tech spending 49% of companies according to Ziff Davis will increase IT budgets to support changes to business operations.
65% of organizations plan to keep flexible work policies in place after the COVID-19 crisis ends. Hyrbrid remote work and some office time will remain the norm.
51% of enterprises are accelerating cloud migration efforts for data servers, voice communications etc.
27% of IT budgets will go towards hosted services making this their largest tech spending category.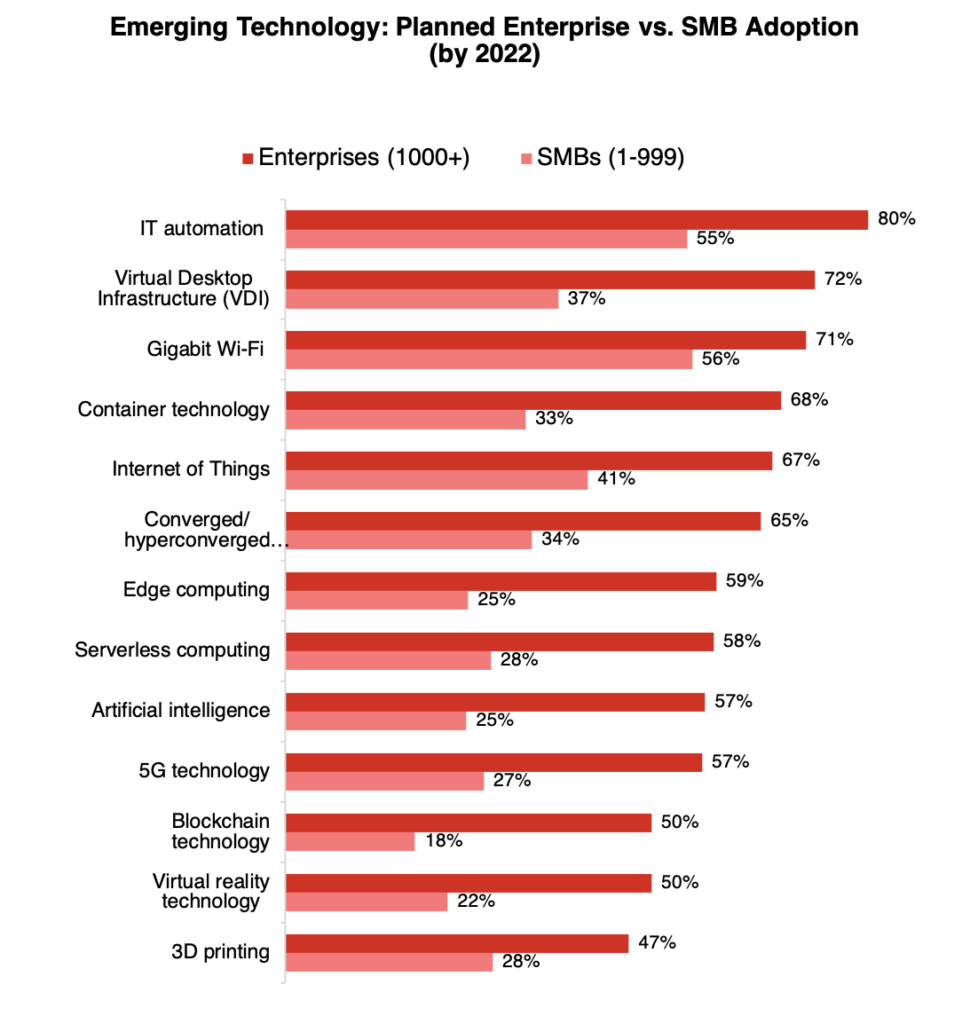 Because remote working wouldn't be possible without IT, decision makers now view tech investments as a key to maintaining productivity levels and business continuity. 67% of enterprises plan to host back-office applications such as CRM, ERP, HR, etc fully or partially in the cloud. As revenues stagnate, you might expect IT spending to get watered down. Despite year-over-year growth slowing a little, more IT budgets are expected to grow than contract in 2021. In fact, 80% of businesses in North America and Europe anticipate year-over-year tech spending to stay the same or increase.
COVID-19 has driven businesses around the globe to transform to enable remote workforces, adopt digital workflows, optimize business operations, and innovate to meet the needs of a new market. Many of these changes will be permanent and will continue to influence tech purchases in 2021.