Service interruptions can happen to anyone. Is your business prepared to wait out an outage? Gartner estimates that 97 percent of business based communications are via email, yet 29 percent of companies have no contingency plans in place and are forced to resort to private email and phone, or go home when email is down.
"Businesses that fail to practice effective Business Continuity Management planning could risk catastrophic business failures caused by events, such as natural disasters, supply chain failures and man-made events." – Gartner BCM key initiative overview June 2013
What is a good solution out there that can be deployed and not break the bank, yet actually work as an active failover?
A good network backup should provide a secondary network path using a different technology and preferably be carrier diverse to ensure continuity should one carrier fail. It can get very expensive to build a second MPLS or metro E network, DSL isn't always available everywhere so I recommend wireless as a backup medium of choice, specifically 4G.
4G is available most everywhere, it is very inexpensive and can be deployed using a pool of data rather than paying for a nailed up specific bandwidth at every branch location. Most carriers offer a bundled solution with a Cradlepoint or other device that will connect to your network as a backup route.
Wireless backup offers continuity as well as proactive automatic failover/fail-back configurations and there is no need for capital outlay or last mile access.
Here is a map for example of Verizon's territory and coverage. Wireless backup is available in all non-roaming areas.
Wireless backup solutions provide speeds up to 15mbps and data plans up to 10gb per billing cycle. Most often the device comes pre-configured and all you need to do is tweak the configuration of your existing router. Here is an example of a CenturyLink solution.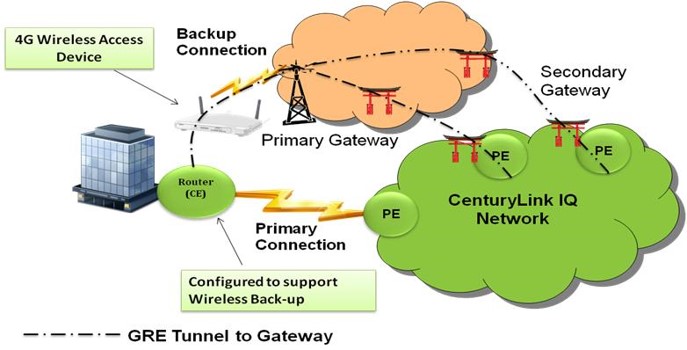 Wireless backup solutions offer private connectivity through Verizon or other network provider's wireless network.
From power outages to natural disasters or even man-made disasters, your business is confronted by a wide range of threats that can disrupt your Internet and phone service and wreak havoc on your business operations. Every minute of downtime is potentially lost customers and revenue. Protect your mission-critical data and reduce the risk of financial loss by doing some inexpensive Business Continuity planning and deploy a network backup solution that works on any budget.
To learn more about pricing or how the service works:
{{cta('caf88454-cc8a-4c2c-998a-01be96a7b5d6')}}