Remote work is not a trend, it is likely to increase. In light of the recent Wuhan Coronavirus many companies have been left scrambling to figure out how to set up employees for remote working. Seemingly overnight, remote work has gone from that rare unicorn of workforce arrangements to a standard component of many people's workweek. According to a recent Gallup poll, 43% of employed Americans log at least some out-of-office, on-the-clock time. A full 31% of those who work remotely at least some of the time spend four or five days a week out of the office. Nearly 50% of millennials are freelancers, and employers are limited in how and when they require contract employees to be on-site. And, of course, there are other pressures forcing companies to reevaluate their stance on remote work, such as the 2020 global coronavirus epidemic.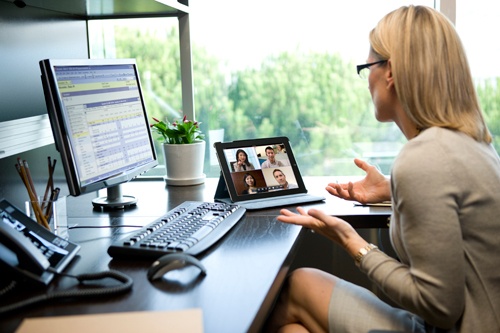 Here are 3 simple steps to set up a remote worker
1. Deploy hosted VoIP phones
Migrating to a hosted VoIP platform can be done in a matter of days. A new phone can be shipped pre-configured and ready to go. There is a time delay with porting your numbers but that is easily resolved with call forwarding to a new temporary number until the actual number is ported. It is seamless to the customer and the employee. Due to the current pandemic most providers are greatly reducing the monthly cost for VoIP to lower the barrier for customer to make the switch. VoIP solutions also offer chat capability keeping employees connected for both text and video chat. Get more info here Video demo.
2. Remote Desktops
If you've been looking for ways to control computers from home, the road or elsewhere, you've likely seen the phrase "remote control software" pop up. But how does it work? How can you make it secure and not expose the corporate network? Put simply, remote control software lets you control one computer from another computer just like you were sitting in front of it, so your work is always just a few clicks away. Rather than try to figure out how to secure hundreds or personal employee computers simply have employees use there home computer or laptop to connect to the work computer which is already secure and managed by IT.
Remotely access your Mac or PC from another desktop or mobile device
Print over the Internet to any local printer you're connected to
Give teammates the chance to connect with unlimited user accounts
Manage passwords better with a complimentary LastPass license
Remote printing allows you to send documents from your work computer to the printer next to you.
File storage and sharing
Leave your desktop online. Then from another computer, simply remote in.
To learn more Remote Desktop demo or call us today at 208-221-8573.
3. Video Chat and Conferencing
If you have big team meetings that include lots of remote workers, GotoMeeting is a video chat application that supports Brady Bunch mode of dozens of participants. GoToMeeting is a web-hosted service created and marketed by LogMeIn. It is an online meeting, desktop sharing, and video conferencing software package that enables the user to meet with other computer users, customers, clients or colleagues via the Internet in real time.
The rise of remote work might be unavoidable, and you should want to take advantage. Allowing remote work can benefit not only your employees, but you as a manager and the organization as a whole. Not only do remote workers tend to enjoy what they do more and find remote work less stressful in general, but they're more willing to put in extra hours as a result.
To learn more about setting up remote workers schedule a call with us. {{cta('a5d68abf-a9f2-4eb7-a453-9468da675b94')}}