VoIP providers are constantly pointing out that their solution integrates with your software. I thought it might be helpful to explore a few of the top integrations to show what the actual benefits really are and if they are worth the hype. After all if its just a click to call function that doesnt really seem like that big of a deal. But if suddenly I can send instant messages, emails and phone calls through my phone system right out of the contact file of my CRM that can be a big deal.
Here are 5 of the most common business related software integrations available:
Microsoft 365
RingCentral for Microsoft 365 seamlessly blends business communications into your work environment, transforming your Microsoft 365 integration into an enterprise-grade communications hub with a powerful and easy-to-use interface that is very simple for end-users to deploy and for IT to manage. This integration empowers your workforce with a superior, robust cloud communications solution accessible directly from Microsoft Outlook® and Microsoft Teams on the web.
Key Features:
Set RingCentral as the default for all communications.
Make and receive calls, send and receive business SMS directly from the Microsoft 365 Outlook or Teams from the web interface.
Access your complete RingCentral communications history – calls, texts, faxes, and voicemails in a single view.
Click-to-Dial or Click-to-SMS any phone number that appears in your Microsoft 365 mail messages.
Set RingCentral presence status.
View all RingCentral and Microsoft 365 contacts in one, easy-to-search screen.
Schedule RingCentral Video meetings or audio conferences natively from the Outlook calendar, from within the app, or from within your Teams group or direct chat conversations.
Easily call or text your contacts from Microsoft 365 contact cards.
Add participants to an active call at any time.
Select and change the mode and device to make calls as needed.
Deploy on day one—no need for time-consuming customizations, professional services support, or middleware.
Set a location where the proper authorities can be directed in the case of an emergency.
Benefits:
Minimize the number of applications and programs you need to toggle between to get work done. Make and receive calls, send and receive texts, and view your complete communications history—calls, texts, and voicemails—from either Outlook of Teams UI.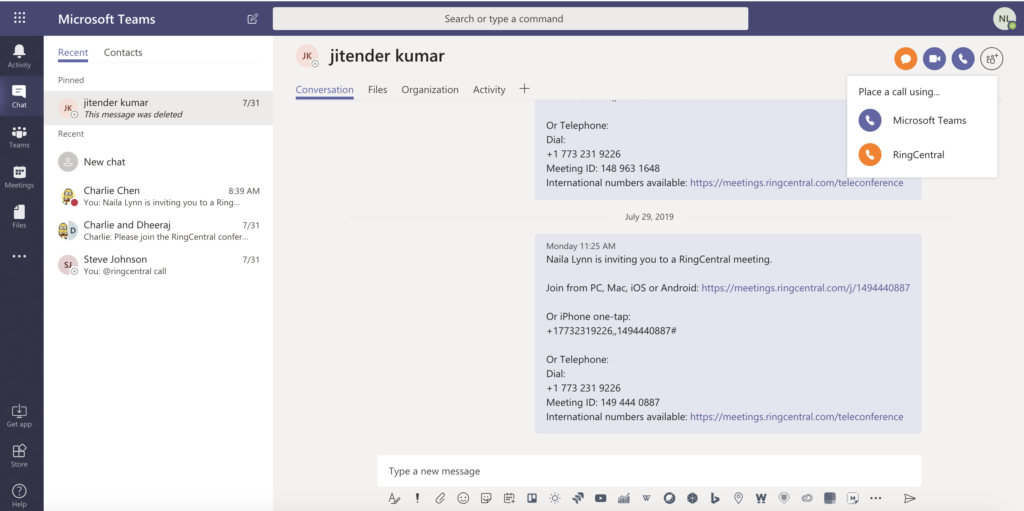 Salesforce
Many companies have moved to Salesforce as there CRM of choice. You can integrate Salesforce with RingCentral to enhance your CRM and Service Management experience by
automating workflows
increasing call efficiency and improving the quality of customer interactions.
The integration works in both Sales Cloud and Service Cloud.
The integration lets you make and receive calls directly from your Salesforce account.
You can now schedule RingCentral Video meetings, in addition to quickly assigning call dispositions, logging calls, taking notes and more, without jumping back and forth between applications.
Benefits:
Seamless integration allows you to automate tedious tasks, make your workflows more efficient, and offer your customers a superior experience.
Reduces the need for agents to switch between multiple devices and applications to access key business functionalities to accomplish their daily tasks.
Access to key customer information and call history allows agents to deliver timely and personalized customer experience.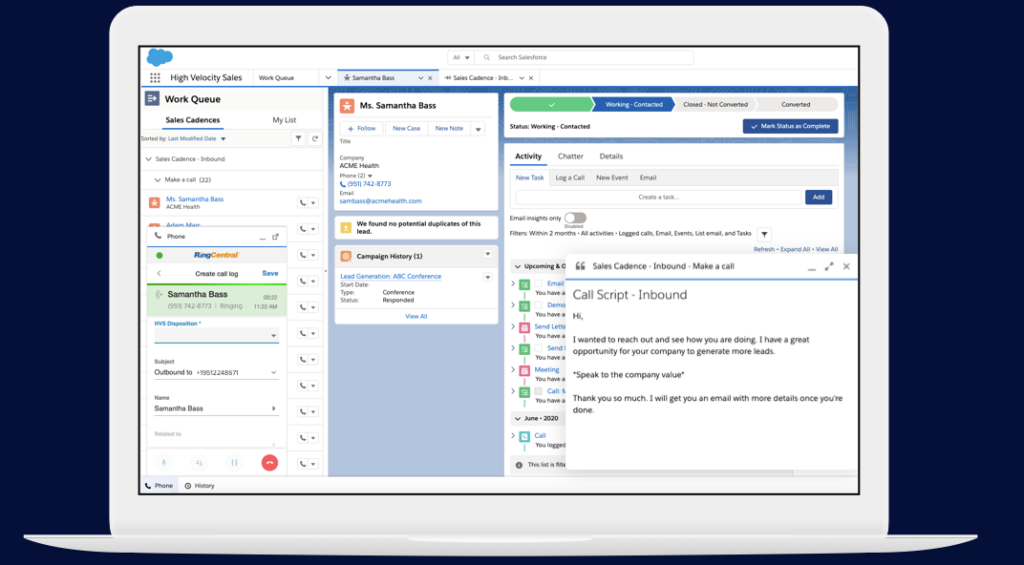 Zendesk
With seamless integration between RingCentral and Zendesk, you can simply click to dial, eliminating misdials and improving call efficiency. Incoming calls automatically bring up matching customer records or create new Zendesk cases, enabling agents to provide quicker and more personalized responses. RingCentral for Zendesk streamlines your help desk workflows, boosts agent productivity, and improves the quality of interactions you have with your customers.
Benefits:
Integrating your RingCentral solution with Zendesk, allows you to automate tedious tasks, make your workflows more efficient, and offer your customers a superior experience.
Reduces the need for agents to switch between multiple devices and applications to access business functionalities and accomplish their tasks.
Intuitive user interface and optimized actions, such as click to dial and customer information pop-ups, allow agents to deliver a timely, highly customized experience for all calls.
Google
When you integrate Google Drive into the RingCentral app, you can pull any document, presentation, image, video, or other file stored in Google Drive right into your team message conversation of choice to share with your team without ever leaving the RingCentral app. With RingCentral integration you can click to call any number on the web.
Benefits:
Productive team collaboration
Reduce the need for agents to switch between multiple applications while working in the RingCentral app.
Attach your Drive files into the RingCentral app instead of emailing.
Easily pull all relevant files from Google into your RingCentral app projects, teams, or tasks.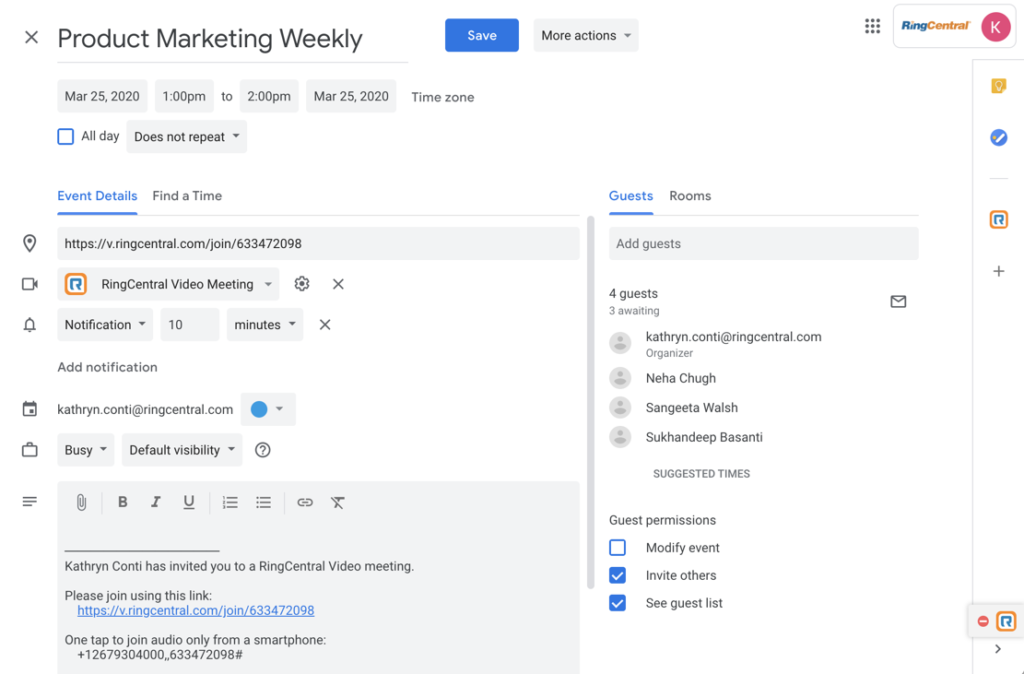 Hubspot
RingCentral Engage Voice for HubSpot enhances your CRM experience by automating workflows, increasing call efficiency and improving the quality of customer interactions.
This integration is a Google Chrome extension.
Key features
Click-to-call: Place calls from within HubSpot using a hover-to-show tooltip to show click-to-call button on any phone number, saving time and improving call efficiency.
Easy Access: Connect on both Windows® and Mac®, using Google Chrome/Firefox.
log sync: Sync call log with note to PipeDrive contact
As you can see there is an ever growing list of software integrations and the key theme and benefit to most of them is to enable the contact function of your various tools to automatically work in sync with your phone system rather than duplicate contact info or jump between systems. It enables all the contact functionality of your CRM and ERP solutions such as click to call, screen pops with customer data on inbound calls and grabbing files and documents and bringing them into a already established conversation etc. It really makes your tools more efficient and more valuable and is well worth the effort to get them connected. I primarily focused on RingCentral integrations for this article but many of these same software solutions also integrate with Jive GotoConnect, Broadvoice, Zultys  and many others.
To learn more about potential integrations for your business…