It wasn't that long ago that if you wanted to share a file you had to save it to a disc and hand it or mail it to the recipient. In late 2000 the first USB flash drive was sold by IBM. By 2004 we thought we were pretty cool if we carried a "Thumb drive" to move files from one place to another but today its much easier to share and store files using the cloud. "Sneakernet" as it was coined is still used by many, in fact many companies still backup they're corporate computers to a tape drive rather replicate to a cloud server.
Today file sharing can be done with the use of many different providers and their seems to be limitless options but how do you know who to trust for mission critical data? The key is recognizing that free doesn't offer the protections that a business requires and a few dollars a month will go great lengths to secure your company files and allow employees to access them anytime from anywhere.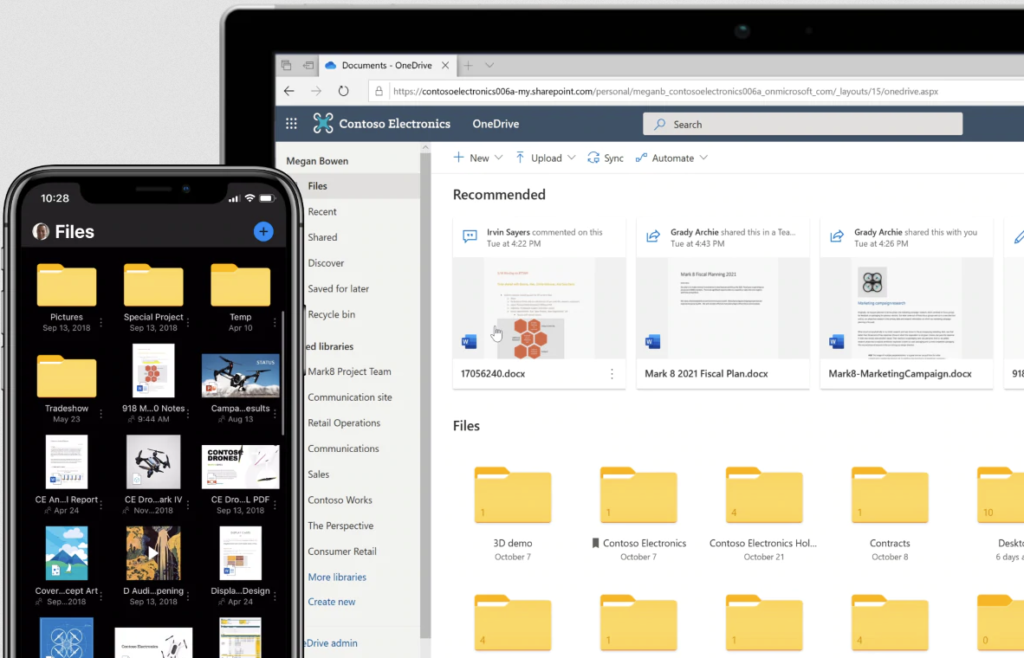 Here are the Top 5 small business file sharing solutions in no particular order:
Microsoft OneDrive

OneDrive integrates nicely as you can imagine with Office 365 and Microsoft's mobile apps offer real-time collaboration in Office documents. If you subscribe to Microsoft 365 your users each get 1TB of free storage included at no additional cost. OneDrive offers robust security including ransomware detection and recovery.
For business storage only and no Microsoft 365 licensing the cost is $5 per user per month for 1Tb of space.

Citrix ShareFile

Citrix creates a custom file-sharing site for your business, so you can share files easily with clients, partners, co-workers etc. The service offers tools such as workflow management, document collaboration, e-signatures and integration with Microsoft Outlook and Gmail. Security is robust with customizable permission settings and the dashboard makes it easy to add new users and toggle between shared folders.
Unlimited storage runs $10 per month per user but there are bundle deals available too based on number of users.

Dropbox

Dropbox has many third party apps that make its services robust. Dropbox recently overhauled its desktop client and offers the ability to create and organized Google Docs, Sheets, and Slides files with links to those documents embedded in Dropbox folders. You can share files and send messages in Slack, write comments on files etc on either Office or G Suite files.
The standard cost for a business license is $12.50 per month per user and offers 3TB of storage per user.

Google Drive

Google Drive like OneDrive integrates well with its own Google productivity apps so if you're a Google shop this will be a natural fit. Google Drive offers a backup and sync desktop client, you can choose which of your Windows or macOS computer folders to continuously sync to Google Drive. Google Drive's file organization isn't as intuitive as some of the other solutions mentioned but it does allow collaborating on documents in real-time.
$300 a month buys you unlimited storage or you can purchase individual licenses for $6 a month that include 30GB of storage.

Box

Box has been geared toward business and enterprise and competes with Dropbox who has largely focused on SMB. Box offers separate desktop clients for accessing files and creating shared notes but is sometimes criticized for being unintuitive. They allow enterprise collaboration and cloud content management with integrations with G Suite and others.
 Business plans range from $5 user per month for 100GB of storage to $25 for unlimited.
Whether you are already using a file-sharing/syncing service or looking to upgrade if you are unsatisfied with your current solution let us know. A word of advice be ware of users going out and getting free accounts and using them for business file sharing as that can open a can of worms for the security of your network.  We're moving into a new world and sometimes it uncomfortable to pay for things you didn't have to deal with in the past but trust me the benefits far out way the costs and chances are they can replace old archaic solutions that cost you more than you think.
To Learn more about Microsoft 365 or any of the file-sharing solutions mentioned in this article: