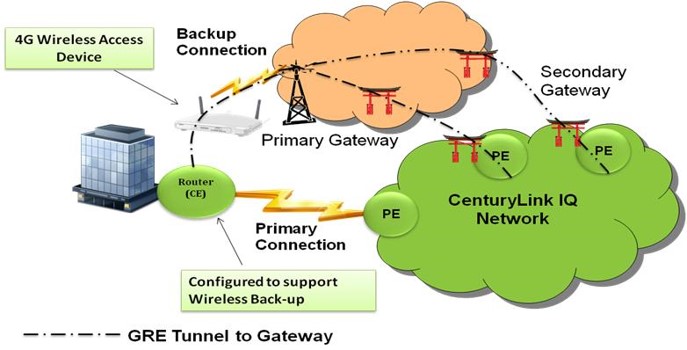 Businesses often deploy distributed networks using MPLS, Metro Ethernet or other connectivity to ensure that the communication between headquarters and their branch offices is always up and running. Branch offices located at the edge network depend on continuous connectivity. They have so many important devices and applications, that they cannot risk downtime or outages. Sometimes however despite investing in high end WAN solutions, life still happens and fibers are cut, routers can fail and those primary connections go down. The need for constant connectivity requires a backup connection.
Backup Solutions
One method used by distributed networks to provide fail-over to a branch office was an inexpensive DSL link allowing for a VPN connection should the primary WAN connection get lost. The problem with that method is that it is rarely tested and takes time to establish a VPN in the event of an outage. SD WAN technology now allows for 2 simultaneous connections such as MPLS and a broadband circuit which fixes the instant fail-over issue but SD WAN adds some expense to the equation and still depends on the cable in the ground to survive a cut.
4G LTE network backup connection
The least expensive way to create a true redundant network connection that will instantly fail-over is 4G LTE. An LTE Fail-over appliance provides a secondary WAN or Internet connection over the 4G mobile broadband. This wireless link does not rely on last-mile wired connectivity, as MPLS infrastructure or fiber does. When the main wired link fails, the traffic is automatically redirected to the wireless connection, restoring network access. A 10mb private connection including the appliance runs less than $75 per month or the equivalent of a cable or DSL circuit. Soon 5G will be available in more and more markets and the use of wireless data connectivity will be even more prominent.
To learn more {{cta('d7b3c7d2-31ed-4b54-a235-cca6ba63b88d')}}