One of the best things about being in a technology driven society is that many of us can work anywhere. As long as we have an internet connection, it's relatively easy for us to get most of our day-to-day work done. To build that report, manage our sales teams, send that email, or set up that conference call, we simply need to connect to Wi-Fi and get to work.
But an internet connection doesn't solve everything that we need to accomplish during the day. Often, we need to communicate with team members, project managers, and customers — and when you're remote, that communication can get a little … messy.
As the technology landscape has grown, many companies have discovered and begun implementing new tools and resources that enable employees work productively.
To help you figure out which tools might be handy for your dispersed team, we compiled a list of some of the best tools for working remotely.
10 helpful remote work tools and software
1. Microsoft Office 365 with Teams
Microsoft Office allows you to download apps like Excel, Outlook, Word, and PowerPoint to your computer or mobile device. You can also use this general suite of tools to manage, share, store, and edit documents in team folders.
Aside from the more specific apps, Microsoft Teams also allows you to communicate with your teammates via video calls, email, and through an internal discussion platform where your colleagues can create posts or ask questions.
2. GitHub
Web developers will love GitHub because it is designed to build software with remote teams. The platform allows teams to virtual participate in code review and the management of both open source and private projects.
The GitHub Marketplace also offers coders a variety of tools that can help them do their job more efficiently, regardless of where they log in.
3. Jive GotoConnect
Jive is a cloud-based business phone system that offers advanced features, easy setup and reliable service – all for an affordable price. GotoConnect is easy enough for anyone to set up and comes standard with advanced features, so even very small businesses can give customers an enterprise-quality experience.
Control
Want calls to get a live answer from a sales or support queue during office hours and hit an auto attendant after hours? Want to page all agents at once to save time and energy? Learn how easy it can be with a Jive small business phone solution.
Connect
The ability to page a group, transfer a call to someone's voicemail, connect 10 people to a conference bridge, or listen to your messages on your smartphone are not only possible but simple. That's the power of a Jive small business phone system
Collaborate
Jive allows you to work from home, on the go, remotely, and—when it's time for a break. An internet connection lets you manage the phone system from any computer, and make calls from any desktop or mobile device.
4. Jira
Jira is another project management tool primarily for developers, customer support, and IT reps, that allows you to assign and track work or problems that must be solved. It also has a handy mobile and desktop interface for project management on the go.
5. Monday.com
Monday.com is a web task management platform specifically for businesses and agencies. It offers features that allow you to watch the progress of tasks on a dashboard and assign projects to team members. But, additionally, it also allows marketing teams to plan tasks with their budget in mind. Here's a quick demo that shows off Monday's task and budget management tools:
6. GotoMeeting
GotoMeeting is built in to the Jive phones system so every user gets a GotoMeeting lincense but it is also available as a stand alone product. When I need a reliable online meeting and webinar program, this is my "go-to." Screen sharing is easy and call quality is usually really good. GoToMeeting allows you to schedule and launch virtual meetings or webinars where users can log in or call to hear only hosts speak. These meetings can be recorded and sent to participants after they're completed.

7. Slack
This quickly-growing startup's product is great for real-time communication for one-on-one conversations or with everyone on your team. You can also organize chats by subject, and integrate activity from platforms like Github, Trello, and Pingdom. I like the thought expressed here that Slack is as close to a virtual office as you can get. You can even create one channel for every client, and invite only the people on that project to be on that channel.
8. Microsoft Outlook
Work efficiently with email, calendar, contacts, tasks, and more—together in one place. Office integration lets you share attachments right from OneDrive, access contacts, and view LinkedIn profiles. Book conference calls and track RSVP's for meetings right from your calendar. Make plans and coordinate schedules by sharing calendars and seeing when your coworkers are available.
9. Zoom
Zoom is an easy-to-use desktop platform and app that allows you to schedule, launch, and record virtual meetings with your team. Meetings can be entered remotely from a computer, smartphone, or by voice via a dial in phone. During Zoom meetings, you can also share your screen with teammates so they can see your work or presentations.

10. YipTel Accession Meeting
First of all Accession Web meetings can be used as a stand-alone application to create, schedule or join an existing meeting or it can be integrated in to your YipTel Desktop as well as YipTel Mobile to create the most powerful collaboration solution available on the market today. The YipTel Desktop with Accession Meeting provides all of the powerful features of the Desktop application with the added benefits of immediate access to Web Meetings, Screen Sharing and Audio and Video Conferencing at the touch of a button.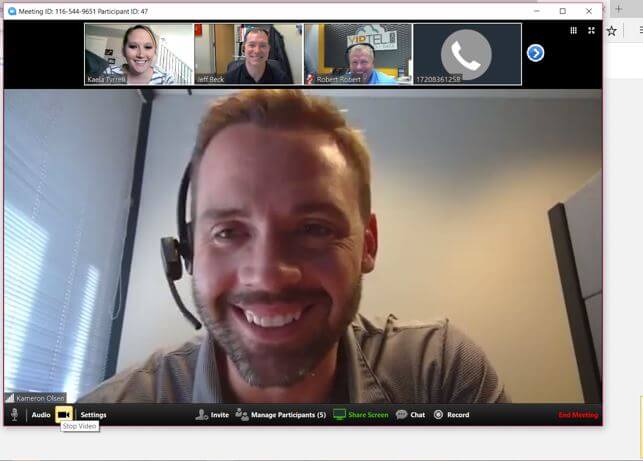 With all of the current technology out there, there's almost nothing we can't do remotely. Everyone works a little differently. We all have problems to solve and work to do. When those problems require us to get organized, communicate and collaborate we"ve got our favorite tools to solve them.

Have questions? {{cta('caf88454-cc8a-4c2c-998a-01be96a7b5d6')}}