It's safe to say 2020 has been the year of virtual meetings. Everything from large-scale conferences to staff meetings, to meetings with prospects, are hosted remotely. Chances are much of your business process has moved fully online as well.
Free Download: Video demo
Video conferencing tools are a good investment for businesses of all sizes, especially with remote work becoming the norm. Since the COVID-19 outbreak began, the video conferencing software has seen a 500% increase in demand, and 67% of companies have increased their spending on video conferencing tools.
The right video conferencing tool is necessary to continue conducting business in 2020 and beyond, and choosing the right software is an important decision.
Here are 7 top rated solutions:
1. Zoom
Zoom has likely been the most-used app of 2020. Mostly because you can get started for free and its easy to use. However there have been some security issues so make sure you go with a paid plan and make sure its secure before you deploy.
2. GotoMeeting
GoToMeeting is a collaborative tool that offers one-click online meetings, virtual meeting spaces, and webinar capabilities. This platform also has a robust mobile interface, which allows users to host and join meetings from their mobile devices — ideal for sales and business professionals working on-the-go. It integrates with a VoIP solution making it one of the best all around solutions available.
3. Cisco Webex
Cisco offer a video conferencing platform that is secure, reliable, and lends well to video calls, webinars, and large-scale virtual events. Cisco Webex also has robust enterprise options for accounts that need many users and remote support for all your customer service needs.
4. Microsoft Teams
If your organization uses Microsoft Office as your main software suite of choice, Microsoft Teams is a good video conferencing option. This video conferencing tool makes virtual collaboration possible with screen sharing, chat functionality, digital whiteboards, and direct integration with your favorite Microsoft Office apps.
5. Google Meet
For teams who rely on G Suite apps, Google Meet is a solid video conferencing option. Google Meet offers secure, straightforward video meeting software for businesses. Integrate directly with Google Calendar — one of the top calendar applications for individuals and businesses alike.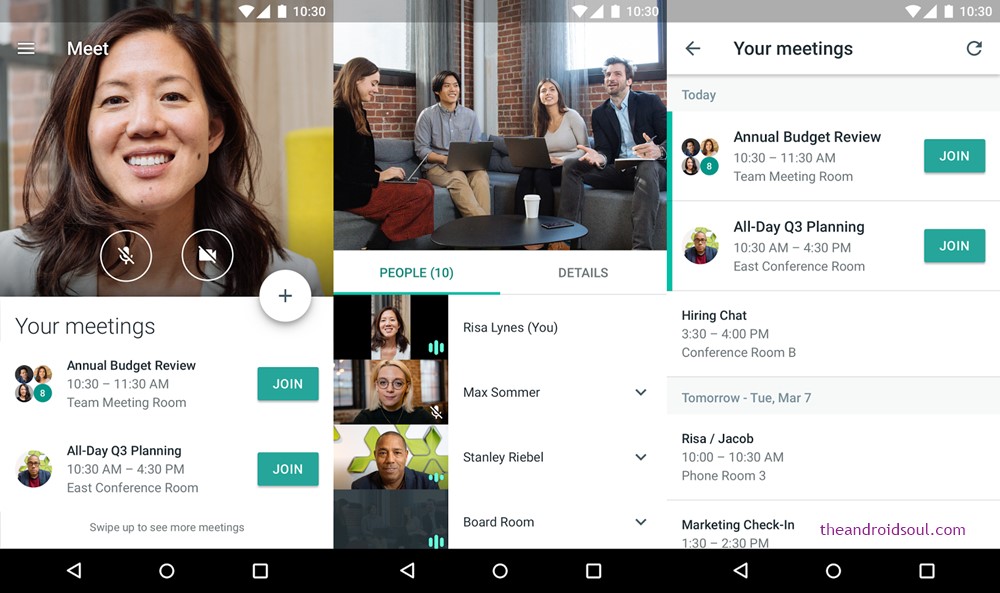 6. Slack
Slack video conferencing is built into the Slack tool, making it easy to collaborate with team members within the app. Slack also works with other tools, too. Instantly start meetings or join calls without leaving your Slack conversations by connecting your video conferencing service of choice. (Zoom, Cisco Webex, Microsoft Teams, Google Hangouts, BlueJeans)
7. BlueJeans
BlueJeans provides a meeting experience with one-touch meeting joins from your favorite scheduling and collaboration tools, devices and room systems. Join a meeting in any popular web browser with one click. BlueJeans Meetings Platform provides a secure, global and scalable architecture that enables productive video, audio and web conferencing meetings from anywhere.
Choosing the Right Video Conferencing
When it comes to choosing the right tool, it depends on what your unique needs are and how much budget you have available. As you make your decision, determine what kind of meetings you are planning to host, how many users will need access to your tool, and what features are most important to you.
For tips to how to get started with any of the above video conferencing tools, click the link below.