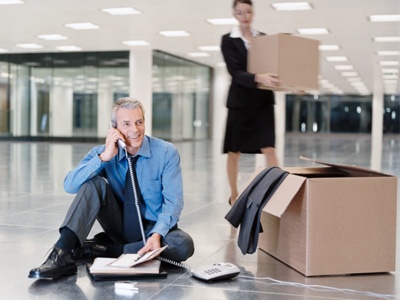 Growth in business is a great and exciting thing. Profits increase, steady workflow and job security for employees helps company morale. Inevitably however the space your business started in can become too small and suddenly you have logistics issues and find you have to move to a bigger location. Moving your corporate office to a new location can be a daunting task.
Relocating an office is about more than just packing up boxes, moving them across town or across the country, and then unpacking. When it comes to your information technology department, there are a lot of moving parts. IT infrastructure such as networks and cabling, internet connectivity, phone system, and business systems need to be taken into consideration. All of which requires substantial planning, preparation and time to implement before you are in your new space.
A well planned IT relocation project results in a seamless move that has as little an impact on the daily function of your company and the employees as possible, with no unscheduled downtime. Success is essentially invisible. Failure however is not.
Here are 5 things you can do to make your IT relocation seamless:
Plan and coordinate the move months in advance
We recommend reaching out to a telecom consultant like Agility Communications to design and implement your strategy. The key to any project is to allow ample time to design, plan, order from the provider and implement services.
Evaluate your Voice and Data Equipment
Decide which equipment makes sense to move and what equipment makes sense to upgrade and replace. Many cloud solutions allow you to upgrade from older legacy equipment without any money out of pocket. Again discuss this with your consultant.
Assess your requirements at the location
Are you adding employees or downsizing? Are you implementing new systems that will require more bandwidth? Can you get fiber at the new location when it was unavailable at the old site? A consultant can help you determine in advance what options are available to you.
Order Services for the new location well in advance
Most of the time new services can be put in place and tested prior to cutting over your production environment. This is the smoothest way to go if you can do it. The most common mistake companies make is to under estimate how long it takes to get new services in place. Make sure your consultant orders services months in advance…at least 90 days. Also don't assume your electrician knows anything about data networking. Most times you'll need to hire a third party company to run, test and terminate data cabling. Agility Communications has technicians that do this work for you prior to service installation.
Once Services are in, spend time Testing
Prior to cutting over your production network to the new services take time to test new equipment, make sure security protocols are in place, bandwidth is flowing at the proper rate and that all services are working as they should prior to cut. Lastly think about business continuity. This is a perfect time to get your back up solution in place and to replicate your critical data to the cloud.
With many different aspect to consider during this stressful time it can be easy to overlook things. To avoid this you need to work closely with your telecom consultant during and after your move to minimize disruptions to your daily operations. From establishing communication plans, timelines and budgets to supervising your move-related vendors and ensuring they deliver on time and within budget. Moving your corporate headquarters or just setting up a new office can be both exciting and stressful. Make sure you ask the right questions, create a plan with timeline and simply by working with a telecom consultant to make sure your new office set up goes smooth and business disruption is minimized.
Need some help planning your IT move? {{cta('a5d68abf-a9f2-4eb7-a453-9468da675b94')}}