Microsoft 365 is licensed as a monthly or annual subscription rather than as a perpetual license and it combines a suite of online services you don't always think of, including business-class email, cloud file storage, and secure voice and video communication tools along with the traditional desktop apps. Because it's a subscription offering, those desktop programs are updated automatically when a new version is available. If your subscription is current, you get the latest versions, which are typically updated every six months, on the same calendar as Windows 10. Most businesses have users who work at least some of the time in Microsoft software. Whether your just getting web mail or using spreadsheets those licenses can easily be managed by a consultant who can show you the many tools that come with those licenses that you didn't even realize were there.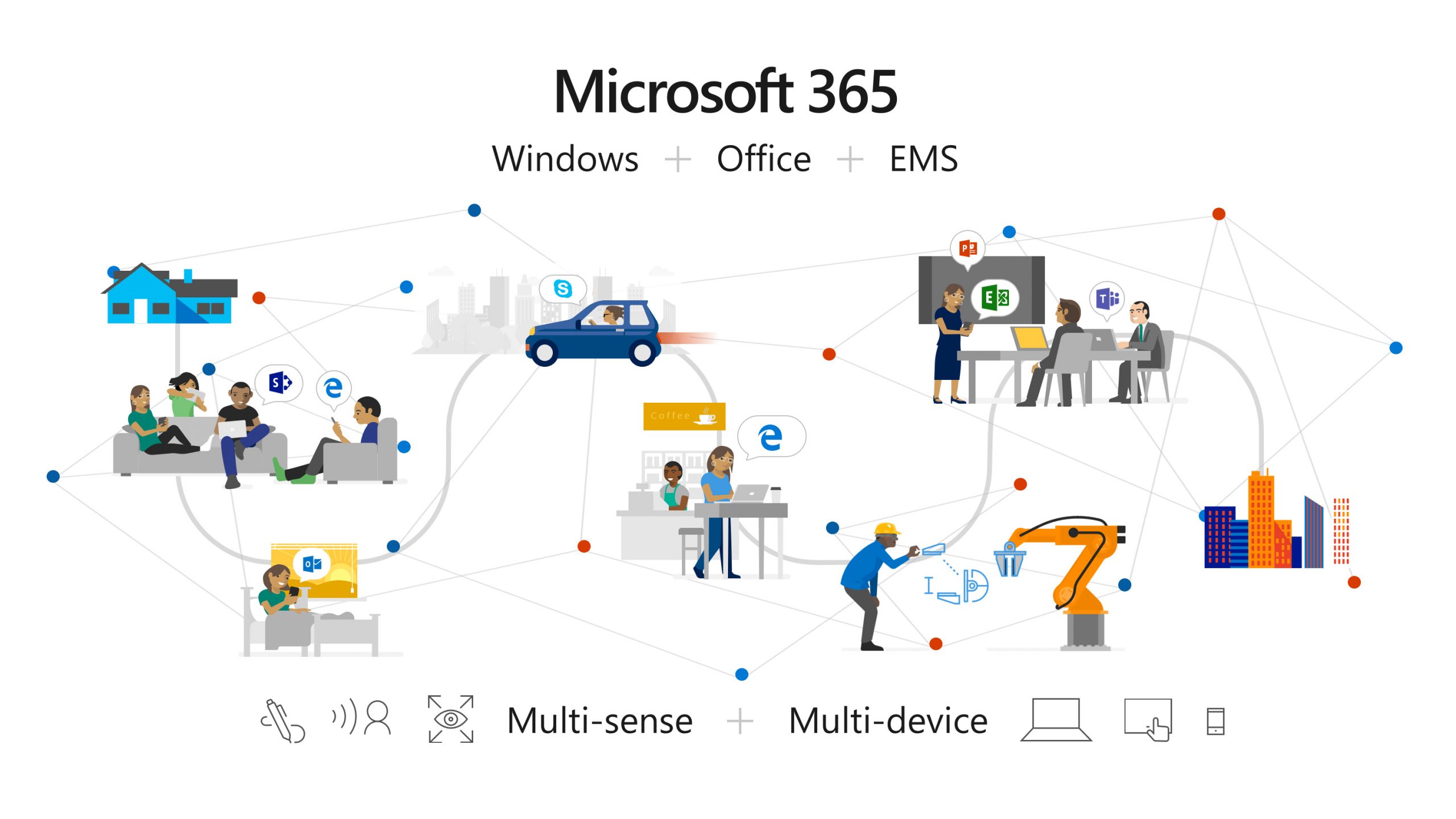 What services are available in Microsoft 365?
Depending on which license you have you can get everything from cloud file storage to a full blow unified communications phone system. Before I get into that take a look at the tools available for typical standard license of $12.50 (each user can put on up to 5 different devices).
Outlook (full blown managed in the cloud exchange server) Email, Calendaring and sharing.
Word, Excel, Powerpoint, Microsoft publisher, Access.
OneDrive – cloud storage with 1 TB of storage per user.
Sharepoint – cloud based document management and collaboration platform. It allows for centralized, password protected document sharing.
Teams – Chat with your team, hold online meetings and video calls for up to 250 people. Create team sites to share information, content and files throughout your intranet.
Think about that for a minute…$12.50 per month gives you all of those tools. If you have 50 employees your getting all that for $600 per month. Most companies that size are paying $12-13 per user for Document management alone using products like Adobe DC, eFile Cabinet or Business grade Dropbox etc.
How to add voice to Microsoft 365
Microsoft Office 365 provides a cost-effective, cloud-based solution that keeps your data, services, and applications secure. Adding telephony and conferencing to your Office 365 license delivers and additional layer of cost savings. It brings enterprise-grade services to organizations of all sizes, from online meetings to collaboration to sharing documents to business-class email.
The tricky thing with Microsoft 365 is that Teams allows all the internal calling and video conferencing you want but it doesn't connect to the Public Switched Telephone Network (PSTN) for dial-tone outside of the company.
To do that takes an additional license and you'll need phones that will work with the system as well as the 'know how' to port your phone numbers to Microsoft. The great part is, that can all be done for anywhere from $8 per user to $15. If you feel like you have a good handle on how to purchase and provision your own phones, port the numbers etc then you can do it for $8. But if you want to offload the headache and the management to a 3rd party just add another $7. That brings your total Microsoft license to $20-25 per user.
Before you freak out and go well we don't pay that much….you actually pay more today. If you are on the old Office 365 E3 license with desktop apps you are paying $20 or more per user. If you only had web mail you probably pay around $5 per user. Lets use a middle of the line license cost for Office 365 Business at $8.25. We'll go ahead and add Dropbox for document management ($12) and then we'll ad a LogMeIn Jive user license for phone with the video conferencing, mobile app etc ($16). Total those 3 licenses up and you come to $36.25 per month per user to have document management, phone with online meeting capability, email and office apps.
It doesn't take much to recognize the huge savings of moving all of these services to the cloud using Microsoft 365. To get an idea of how fast companies are doing just that consider that prior to Covid 19 an estimated 25,000,000 users were on Teams via Microsoft 365 and after just 2 months they now have over 75,000,000 users on Teams.
To learn more about how to migrate your licenses to Microsoft 365