Customer loyalty is more important and harder to earn than ever. Increasing customer retention by as little as 5% increases a business's profits by 25%-65%. Yet as many as 55% of buyers actively take steps to switch brands even when satisfied by purchases. So what happens if your customer initiates a conversation in one channel and tries to continue that conversation in another channel?
It's becoming more difficult to compete on the basis of either price or quality; almost two-thirds of consumers would pay higher prices not based on the promised quality of a product or service, but because of the simplicity of the purchasing experience. Further, up to 70% of consumers would not complete their order with or re-patronize a business they had a poor customer service experience with, regardless of product satisfaction.
Companies have dozens of channels to choose from when communicating with customers. And while it's best to have a presence on as many platforms as possible, you may need to start on a smaller scale.
So, which channels should be the focus of your multichannel communication strategy? The essential channels to get you started include:
Many of these channels can be addressed with your phone system. If you are still in a old system that only allows a voice channel, you are missing out on opportunities to meet your customer where they are. Once you consider the countless advantages of multichannel communications, you'll be eager to dive in.
One of the biggest reasons to invest in multichannel unified communications is to increase your ability to serve customers where they are already spending their time. No matter your target audience, you probably have a range of customers who have different preferences when communicating.
Some customers might be busy professionals who prefer SMS, while others may prefer calling your company to speak with a real person. In any case, meeting customers where they are will allow you to improve the overall communication experience—for you and the customer.
Customer Experience
One of the most valuable things a company can offer their customers today isn't a product or service—it's the customer experience itself. Consumers will go out of their way to shop from a brand that has a generous return policy, quick customer service, and speedy shipping times. So when it comes to communicating with customers, a multichannel approach should be a no-brainer. By improving the customer experience, meeting customers where they are, and getting to know audience preferences, you'll have all the tools you need to build more loyal customers. And those loyal customers will act as brand ambassadors, spreading the word about your company to friends and family.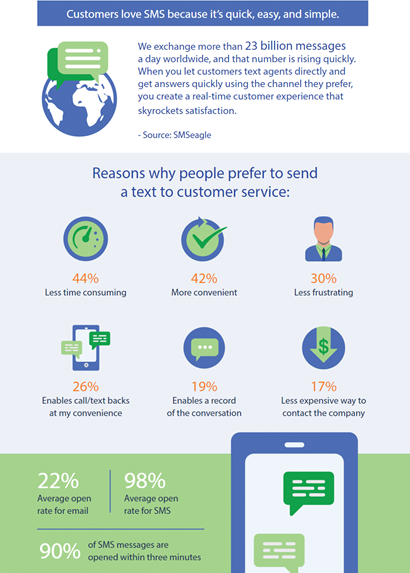 All In One Approach
A customer may start a conversation with your brand online or over email, and they likely will eventually want or need to transfer the conversation to the phone. At this point, they may experience frustration as they find themselves repeating details about their problem or asking the same questions they've already outlined in another communications channel.
The key is to create a multichannel Unified communications strategy the provides customers the ability to transfer from one channel to another. Avoid customer frustration by making sure you have a streamlined approach to conversations across channels.