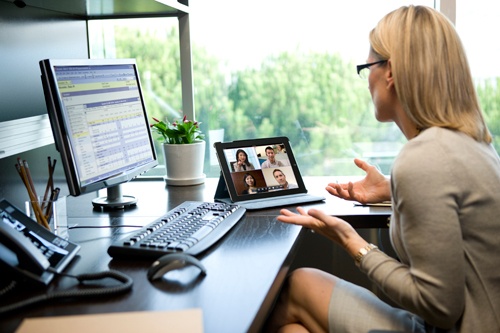 A cloud PBX phone system for small business is deployed on remote servers, managed by a third-party provider and accessed through your existing internet connection. Voice signals are digitized, enabling them to run on today's high-speed IP networks.
Instead of paying to purchase and manage an on-site PBX, phone lines and separate voice network, you simply pay a fixed monthly cost for the cloud-based service which includes the dial tone, phone numbers, and phones. Because there are no tariffs and taxes on internet traffic, you can reduce your local and international calling costs to almost zero.
The overall savings with hosted VoIP for small business is impressive. But the real benefit is how it empowers your people. Improve business efficiency with cloud pbx by improving collaboration and adding mobility.
Agility Communications works with many VoIP providers to give companies the best technology solutions to grow your business. Here is an example of one those providers and how cloud PBX works.
A few reasons a cloud PBX is best small business communications solution
One System for all communications

Unlimited calling
Unlimited conferencing
Customizable Caller ID
SMS Texting to your business #
Online meetings
Faxing

Mobile anytime or all the time

Call, text and fax from your business number on any mobile device. Incoming calls can go through the app and use the same call flows as the business.

Simple and East to Use

Have your entire office or many locations up and working in a day or less. Phone come pre-configured and ready to plug n play.

Security and Reliability are built in.

Servers that are receiving your calls are housed in secure data centers with multiple backups. Every communication travels through encrypted networks and layers of authentication, connecting directly to established redundant carrier lines.

Quality Support 24/7

Provider stands by you from day one, even doing the setup for you. Award-winning customer support is available 24/7 for consultations, technical support and best-practice recommendations.

 

Value and Affordability

Get the most advanced communications system in the industry for a fraction of what it would cost to procure and deploy yourself. You get a single, all-inclusive itemized bill each month. Software updates, support and ongoing maintenance are all included future proofing your investment.
Cloud PBX is the cost-effective replacement for your old phone system, letting you communicate seamlessly across all your office locations using multiple devices. If you're tired of settling for the expensive legacy phone solution that consume much of your IT resources, then perhaps it's time to move your communications to the cloud. The service is delivered over the internet so it's much more flexible, efficient, and inexpensive.