It is clear that leveraging cloud-based communications and collaboration tools has inherent advantages over legacy PBXs and even modern, on-premises unified communications systems. Traditional hardware-centric carriers are bound by the limitations of their infrastructure in terms of features, flexibility, and scalability. A hardware-centric approach also leaves customers at the mercy of their hardware platform vendors to provide timely updates, feature enhancements, security patches and more. That lack of agility and flexibility puts your company at a disadvantage.  On the other hand, software-centric carriers control their own roadmaps. In-house development teams can quickly respond to security threats to roll out fixes and add new features based on changes in the market or customer needs.
To address their unique communications challenges, businesses need to align with forward-thinking telecom partners that focus their efforts on software-based platforms rather than on the hardware-centric platforms of traditional telecommunications providers.
COMMUNICATIONS STRATEGY REMAINS A TOP PRIORITY FOR BUSINESSES
Technology Investment Decision Makers say: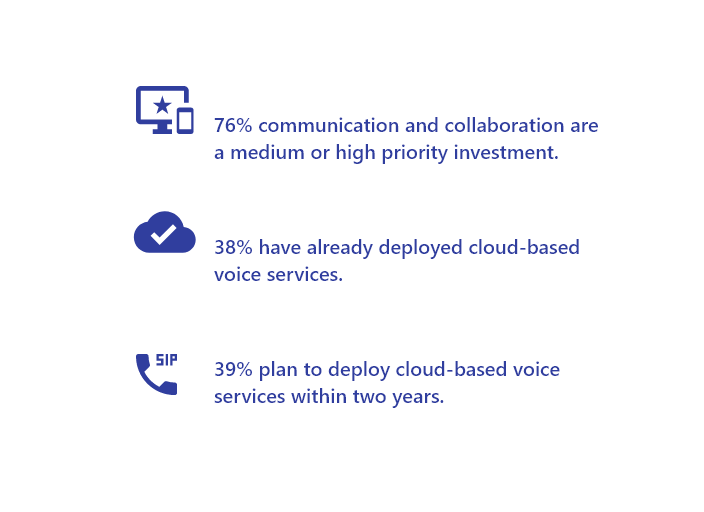 Software-centric carriers (cloud VoIP PBX providers) are well positioned to support businesses seeking to standardize and centralize management over all of their telephone numbers and voice services, including emergency services (E911). A software focus empowers the carrier to chart their own course for future programmable functionality, including APIs. Software-centric carriers with a global reach are particularly well-suited for highly distributed organizations and those requiring mixed on-premises or multi-cloud hybrid environments.
When centralizing SIP-based voice connectivity services with a global VoIP provider combined with BYOB, voice services can be strategically managed across multiple cloud services. By keeping all of an organization's telephone numbers with a single global carrier, businesses have the flexibility to utilize a mix of UCaaS, CCaaS and conferencing services with more flexibility and without the risk of stranding ported numbers with various contracted carriers.
Disadvantages of traditional on-premises phone system
Inefficient and complex call routing processes traversing IP and legacy PSTN networks are wreaking havoc on call quality and control.  Existing telecommunication architecture in a hospital for example is incredibly complicated. Legacy carrier infrastructure, 3rd party interactive voice response (IVR) solutions and managing not only hardware in multiple locations but also various carrier connections, PRI's, analog lines etc. Ongoing voice quality challenges for a highly distributed remote workforce becomes a support team nightmare. Troubleshooting issues keeps employees and IT staff from focusing on serving customers and delivering innovative experiences.
Digital Transformation
Digital transformation is the process of using digital technologies, including advanced communications, to remove obstacles to growth that have become established in an organization over time. Sending appointment reminders to patients via an automated text message, rather than requiring staff to call, is a simple example of leveraging digital technology to transform a previously inefficient manual process.
Effective business communications services are integral to effective business processes and workflows. Modernizing communications is a critical first step in any digital transformation initiative. Centrally-managed VoIP services can ease the transitions from legacy to digital-native solutions while improving workflows and centralizing management.
To Learn how to Effectively support highly distributed enterprises using hosted VoIP technology and unlock the power and capabilities of software-centric communications carriers watch our free video demo.